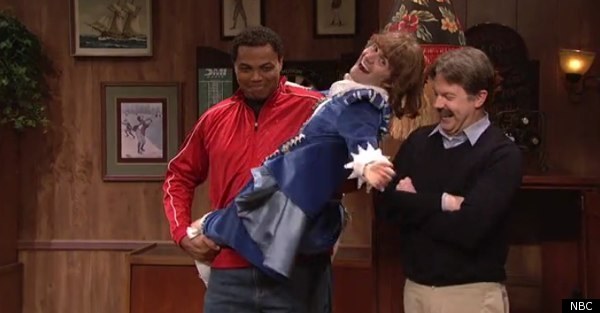 This was Charles Barkley's third time hosting "Saturday Night Live." He's had his memorable moments -- like his Jay Mohr-written 1993 monologue in which he plays basketball against Barney the dinosaur -- and I'm sure that he's fun to be around; but, like most athletes, (even though he is a lot better than most), he leaves something to be desired as a host. Last night was no different.
And in early 2009, I did a story on Bobby Moynihan, which eventually resulted with me watching the Tracy Morgan-hosted episode from the "SNL" writers' room. The musical guest that night was Kelly Clarkson. When you watch the show from the writers' room, you're allowed to go down into the studio to watch the musical guest. I am not what you would call a "Kelly Clarkson fan," but that night, in person, she was electrifying. But last night, for whatever reason, even Kelly Clarkson was... a bit off.
So off we go to a very busy (13 separate segments!) scorecard...
(Hulu currently has a very limited number of sketches online from last night. We'll update the post if more become available, but please excuse the sub-par YouTube videos for now.)
Sketch of the Night
"Wyndemere" (Paul Brittain, Jason Sudeikis, Charles Barkley, Andy Samberg, Bobby Moynihan) Good grief, I think I love Lord Wyndemere more than Jason Sudeikis' character does. Honestly, if Lord Wyndemere walked into my apartment right now, I would react with the same awe and wonder that Sudeikis does. And I would chase Wyndemere around trying to pinch his bottom in exchange for the answer to his riddle. Not quite as good as Wyndemere's first appearance, but, honestly, I could watch a half-hour weekly situation comedy about Lord Wyndemere.
Score: 9.0
The Good
"Adult Video Awards" (Ensemble) This was great in every possible way. It really did feel like an awards show death montage. (And, yes, it was nice to see Nasim Pedrad tonight, too.) My only complaint: The sketch ended with, "Coming up next: The Best Penis Award." I get it -- this is a nuanced sketch and by ending with something crass and "expected," if you will, that can be funny. For whatever reason, it just felt tacked on.
Score: 8.5
"Mayan Calendar" (Fred Armisen, Bill Hader, Charles Barkley, Andy Samberg, Bobby Moynihan) I was watching this sketch thinking, "You know, for being the last sketch of the night, this really doesn't seem that weird." Then the Mayan calendar itself started talking.
Score: 7.5
"Weekend Update" (Seth Meyers, Kristen Wiig, Fred Armisen, Bobby Moynihan) Finally, on Jan. 7, I got the Christmas present I was waiting for by not only getting another Lord Wyndemere sketch, but also the return of Nicholas Fehn. I know that Fehn is not universally popular, but for the life of me, I laugh every single time at the set-up of his "skewed views" on the latest headlines, just to then have him simply react by saying such nonsense as, "There's no way!" Moynihan's "Drunk Uncle" was much improved in his first fairly great visit to "Update." Wiig's Bachman, though, is starting to get tired. Then again, with Bachman dropping out of the presidential race, this was most likely Wiig's farewell performance of that character. Also, Meyers was very sharp.
Score: 7.0
"Charles Barkley Post Game Translator" (Charles Barkley) This got better as it went along. Barkley is hawking an app that translates what athletes and coaches really mean when they're talking to the press. (And, yes, when Barkley later appeared in a real commercial for Weight Watchers, I was confused.)
Score: 7.0
"Chantix" (Kristen Wiig, Bill Hader) I really like the concept here. Basically, there's a drug that cures smoking. Kristen Wiig's character is pleased about this. Unfortunately, as part of the commercial, she can hear all of the dire side effects. Not the greatest of executions, but this definitely falls into the "the concept, alone, is good enough" category.
Score: 6.5
"White People Problems" (Charles Barkley, Fred Armisen, Vanessa Bayer, Kristen Wiig, Keenan Thompson, Abby Elliott, Jay Pharoah, Taran Killam) My favorite part about this sketch is the opening credits of the "White People Problems" show. It starts out with a close-up on a "Restoration Hardware" box, followed by a broken iPod and then a wine-soaked nursery school application.
Score: 6.5
The Bad
"Joann's Announcement" (Charles Barkley, Vanessa Bayer, Fred Armisen, Kristen Wiig, Keenan Thompson, Paul Brittain) Barkley plays Joann, a very tall woman who announces that she's a lesbian. Her friends are shocked. Great. But the sketch is somewhat salvaged by the presence of Paul Brittain as Joann's boyfriend Chad -- who only needs to stand next to Barkley for the desired comedic effect.
Score: 5.5
"ESPN Bowl Madness" (Andy Samberg) A voice that I can only assume is Rick Santorum (see "A Message from Rick Santorum" below) narrates a commercial for ESPN's bowl schedule. I admit, "The Phantom Menace in 3D RadioShack Croissant Bowl" did make me chuckle.
Score: 4.5
"TNT Inside the NBA" (Charles Barkley, Bill Hader, Keenan Thompson, Jay Pharoah) The only reasonable explanation for this sketch that I will accept is that when Barkley was asked to host, he responded, "I'll get to make fun of Shaq, right?" And the answer was: "Um, sure, Charles. We'll figure something out." (Though, it was nice to see Jay Pharoah get some overdue airtime.)
Score: 4.0
"Charles Barkley Monologue" (Charles Barkley) Look, everyone reads the cue cards when they host "SNL." The hosts are told to read the cue cards as opposed to memorizing lines because of the number of changes that are made up to the last possible second. But some hosts are better than others at not looking like they're reading the cue cards. Let's just leave it at that. Also, the only reasonable explanation for this monologue that I will accept is that when Barkley was asked to host, he responded, "I'll get to make fun of Michael Jordan, right?" Once again, the answer was: "Um, sure, Charles. We'll figure something out."
Score: 3.0
"Cold Open: Rick Santorum" (Andy Samberg) Boy, did this feel really long or what? I remember Andy Samberg's first show. He and Bill Hader were on "Weekend Update," introducing themselves to America. The gist was that Hader could do all of these wonderful impressions and Samberg, almost proudly, could not. Six-and-a-half years later, this is still mostly true. Samberg's Rick Santorum is just Samberg doing a gravely voice. Rick Santorum, from what I can tell, does not have a gravely voice.
Score: 3.0
The Ugly
"Digital Short: Convoluted Jerry" (Andy Samberg, Charles Barkley) OK, even though I just placed this here as the worst sketch of the night, I'm going to do my best to defend "Convoluted Jerry." Honestly, this feels like Samberg threw this together at right before they went live. Though there is something interesting about a singer with convoluted lyrics, it just doesn't feel fully fleshed out. (That may not have been a great defense, but that's the best that I could do because I have no idea what happened here.)
Score: 1.5
Average Score for This Show: 5.65
Weekly Host Scorecard:
· Jimmy Fallon 6.17
· Jason Segel 6.05
· Charlie Day 6.00
· Steve Buscemi 5.95
· Emma Stone 5.85
· Alec Baldwin 5.80
· Charles Barkley 5.65
· Melissa McCarthy 5.45
· Ben Stiller 5.18
· Katy Perry 5.09
· Anna Faris 4.95
You can contact Mike Ryan directly on Twitter.